HOW MUCH PROTEIN DOES A VEGAN NEED?
As a vegan, your protein needs are the same as a non-vegan with the same training goals. However, you need to consider the quality and variety of your food sources, including the bioavailability of amino acids.
If your goal is muscle gain, you should aim for 2g-2.2g protein per kilogram of bodyweight, to compensate for the lower essential amino acid levels in vegan food.
The main challenge facing vegans lies with separating protein from other macronutrients. Animal sources of protein are much higher in protein than vegan foods. It is therefore easier for a meat-eater to drill down into their macronutrient numbers and get specific.
Vegan foods tend to be combinations of proteins and fats (nuts, seeds), or proteins and carbohydrates (pulses, legumes). This isn't a problem, it just means you'll need to get more creative and pay closer attention to your macronutrient numbers if you track your nutrition.
CAN YOU GET ENOUGH PROTEIN AS A VEGAN?
Don't listen to anyone who says vegans will struggle to eat sufficient protein. There is plenty of protein in plant foods, especially beans, legumes, pulses, grains, nuts, seeds, and some vegetables. Make sure you have a quality plant protein powder or blend to help you get enough protein in your diet. Space your meals out every 3-4 hours to ensure you get regular protein feedings.
AMINO ACIDS IN NON-ANIMAL PROTEIN
The main consideration is not with total protein, but with amino acids(1). Whilst animal-based sources of protein tend to deliver a complete balance of amino acids, vegan protein sources usually lack some amino acids. This means you should combine food sources to make sure your body gets enough of all the amino acids to stimulate muscle protein synthesis (MPS). A great example of this is approach is oats with a vegan protein powder, rice and peas, or a chilli made with various beans.
Plant-based food usually contain all the essential amino acids, but rarely have a complete spectrum or essential and non-essential amino acids, and some may be present in low concentrations.
Look out for the amounts of leucine in your vegan diet as this key essential amino acid is often deficient without animal protein, and is a crucial part of the body's muscle building pathways. This is why adding a quality vegan protein powder into your diet is an excellent idea.
VEGAN PROTEIN BARS AND TREATS
Vegan protein bars are an easy and convenient way to increase protein in your diet as well as a macro-friendly way to satisfy your sweet cravings. The market for vegan protein treats has exploded recently but it can still be difficult to buy single bars and treats to try without committing to a bulk box (and then not liking the taste or texture!). Our Big Fitreat Vegan boxes contain a minimum of 10 high protein bars, balls, cookies or wafers with a minimum of 9g protein. Subscribe to a monthly box and get a box delivered directly through your letterbox. Each month, the contents change, giving you a surprise sweet treat to help keep you on track with your health and fitness goals.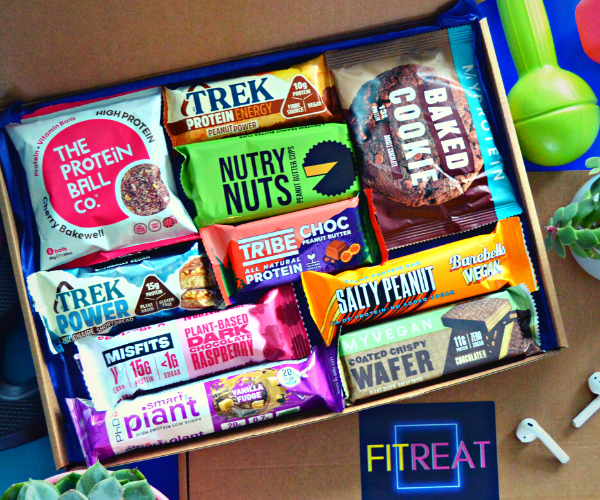 THE BEST VEGAN AND PLANT-BASED PROTEIN SOURCES:
Pumpkin seeds: 30g

Peanuts: 27g

Lentils: 26g

Seitan: 25g

Kidney beans: 21g

Almonds: 21g

Tempeh: 20g

Chickpeas: 19g

Soy beans: 17g

Chia seeds: 17g

Oats: 16g

Rice: 15g

Tofu: 15g

Edamame: 13g

Buckwheat: 13g

Miso: 12g

Kelp: 8g

Peas: 5g
FIND OUT MORE ABOUT OUR HIGH PROTEIN TREAT BOXES
Subscribe and save at www.fitreat.co.uk